CPR / First Aid / WFA Instructor Course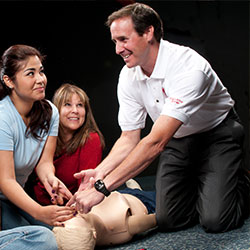 The main reason people get CPR certified is to save lives. But what motivates those people to continue their CPR education and get their CPR instructor certification? As you're about to find out, those reasons can be pretty varied depending on the individual.
For those of you considering taking a CPR instructor certification course and continuing on to teach CPR to others, keep reading.
1. Help Others Save Lives
This, perhaps, isn't shocking. The number one reason people get their CPR instructor certification is because proper CPR training is vital, and that training can make a big difference.
Performing CPR is easy but it's also nuanced. The difference between performing high-quality CPR and low-quality CPR is measured in millimeters and milliseconds. If your chest compressions aren't hitting the target depth, they will be less efficient, which means a less than ideal patient outcome. If the compression rate is slightly off or if the compressor isn't allowing the chest to recoil completely, this, too, has an effect on the survival rate.
The truth about CPR is that, even when it's performed perfectly, the rate of survival is around 10 percent. The other truth that few people tend to think about is that if you do nothing at all, that survival rate drops to zero. And when you consider how many people go into respiratory or cardiac arrest every day, hitting that 10 percent mark really starts to add up.
Helping others make a difference in the lives of total strangers or close family members begins and ends with proper CPR training. Providing that training is a big responsibility but also a tremendous honor. How many of us in our day-to-day work lives can really say that what we do makes a life and death difference?
2. Gain a Competitive Advantage
Just as there is a selfless reason to get your CPR instructor certification, there are also practical reasons. No matter the career paths we chose, building a resume, and making yourself more valuable is critical, and this is true for those of you considering a CPR instructor certification course.
Yes, you'll be the one teaching others and teaching something incredibly valuable. But you'll be learning valuable skills in the process; skills that all employers will appreciate.
When you work as a CPR instructor, you have to become comfortable with public speaking, if you aren't already. For many people, their fear of speaking in front of others is stronger than any other fear they have, including a fear of dying. When you tackle this fear, that creates a tremendous confidence boost and confidence alone can take you to new heights professionally.
Working as a CPR instructor will also enhance your leadership skills and your communication skills, as you learn to build a rapport with diverse groups of people. Leadership and communication are skills that every employer values, regardless of the industry or the profession.
3. Open Doors to New Opportunities
Having those new skills we listed above are great, but if you can demonstrate them to others, this can create opportunities you may not have seen coming. The universe has a way of connecting the dots for us sometimes, and this all begins with meeting new people and networking.
Imagine you have a full classroom full of eager CPR students. You don't know much about these students beyond their desire to learn a valuable life-saving skill. But once you get to know each of them more intimately, this can lead to an opportunity you never planned for.
John Lennon once famously said, life is what happens to you while you're busy making other plans. Once you talk to successful people, you begin to realize that many of them ended up in a fortunate situation that they never expected. And networking is the vehicle that drives those fortuitous opportunities.
Now imagine that you teach CPR online, and you can begin to envision just how vast your network can grow. It's one thing to network in one city or town, but when you teach CPR online, the whole world can become part of your new network. And those great powers of serendipity can grow exponentially.
4. Flexibility and Freedom
There are a number of career paths for CPR instructors, and you may find yourself working for someone else. But you could just as easily work for yourself, in which case, you'll experience more flexibility and freedom than you ever thought possible.
If you decide to teach in-person CPR classes, you decide when and where and even how many students you let into each class. You have total control. For folks who have spent much of their lives punching someone else's time clock, this can be the most appealing aspect of getting your CPR instructor certification and becoming your own boss.
If you choose to teach CPR online, the flexibility and freedom you can enjoy become supercharged, as you've now eliminated the need for travel time and a variety of busywork that comes with having to rent out space and set up in-person classes. Let's not forget, time is the one resource that is truly limited. Any time you can maximize your use of this precious resource, this means more time spent doing things that truly matter.
5. Additional Income Opportunities
Are you going to get rich teaching CPR? Probably not. But you could. However, even if your plan is simply to teach CPR in your spare time and around an already demanding full-time job, this added income can, well, really add up.
Who among us couldn't use an additional source of income?
Many of you who are considering getting your CPR instructor certification may see it as a full-time gig, and that's great, too. In fact, you may be able to even earn full-time money on part-time hours. The possibilities really are endless, since you're the one in control and the ways in which you can teach CPR are growing all the time. Our technological world does present CPR instructors with choices and this will only increase moving forward.
However, let's not forget the reason you began this journey once upon a time when you decided to get CPR certified yourself ? to help save lives. After getting your CPR instructor certification, you'll have the tremendous opportunity to arm countless others with those same skills. Skills that may one day make the difference in an emergency situation.
Prerequisites:
To become a certified CPR / First Aid / Wilderness First Aid Instructor, you must be 17 years old and have completed CPR and first aid training in the past 24 months or be a practicing medical professional such as a physician, Emergency Medical Technician, Paramedic or Registered Nurse. For additional information, contact us at HikeItFlorida@outlook.com
Whether you're an entrepreneur looking to start your own emergency care training business or the newly designated training coordinator at your company or agency, the ASHI and MEDIC First Aid Instructor Development Course (IDC) is an effective way to do both. Using a blended training approach, the IDC combines an initial online learning session to develop cognitive understanding, followed by a single-day, in-person classroom session for practicing instructional skills.
Successful Completion
Successful completion of the IDC by itself does not authorize an instructor candidate to conduct ASHI or MEDIC First Aid training courses and issue certification cards. Candidates who have successfully completed the IDC must affiliate with an approved Training Center which will submit an application for instructor authorization. Instructor candidates can also establish their own Training Center.