You love the outdoors. The beauty. The adventure. The chance to unplug. The quality time with family and friends, or even by yourself. Whether you choose to explore the wilds by hiking, on the water, with a fishing rod in hand, or up a mountain road with your camper, the remoteness and rawness of it all is likely part of the appeal. Being far up the trail or out of cell service also comes with inherent risk. What if you, a friend, or a family member, get sick or injured and you don't have easy access to medical care?

Enter the Hike It Florida Wilderness First Aid course, a fun, hands-on introduction to preventing, recognizing, and treating common injuries and illnesses that can happen in the outdoors. These two-day courses taught all around Florida is great training for anyone who loves to recreate outside, no matter your experience level. By the end, you'll have the confidence and training to take care of those around you.
Here are a few reasons why wilderness first aid training is the perfect next step for your outdoor adventures:
You'll Learn Practical Skills So You're Ready to Respond Quickly
You need training that focuses on the injuries and illnesses you're most likely to see on a trip. Wilderness First Aid courses teach responses to what's common, more serious emergencies, and everything in between, including:
Evacuation plans and emergency procedures
Spinal cord injuries
Shock
Head injuries
Wound management
Sprains and strains
Splinting broken bones
Hypothermia and frostbite
Heatstroke
Altitude illness
Lightning
Allergic reactions and anaphylaxis
First aid kits (What to bring and how to use what you have)
Be Self-Sufficient When Help Isn't Readily Available
Having the ability to splint a broken bone with a tent pole, create an arm sling using only a jacket, or effectively warm someone with hypothermia with the contents of your backpack when help is delayed or unavailable? That's pretty powerful.
Wilderness first aid skills are all about improvising with the gear and equipment you have on hand to manage any medical situation you encounter.
Boost Your Confidence
Confidence comes from experience. When you start a course, you might not know a lot. But when you finish, through real-life scenarios and classroom time, you'll have learned about—and practiced—how to respond to common outdoor emergencies. These are the experiences that will give you the confidence to step up and take charge in any situation.
Learn from the Best
Your instructor might be a physician, flight paramedic, search-and-rescue team member, ski patroller, or wilderness guide. Hike It Florida instructors know how to teach wilderness medicine and answer your questions because they've been there.
Your course will be taught by a Hike It Florida instructor who has extensive medical and wilderness leadership experience. And because we're professional teachers, they're focused on you and what you need to know for the activities you do.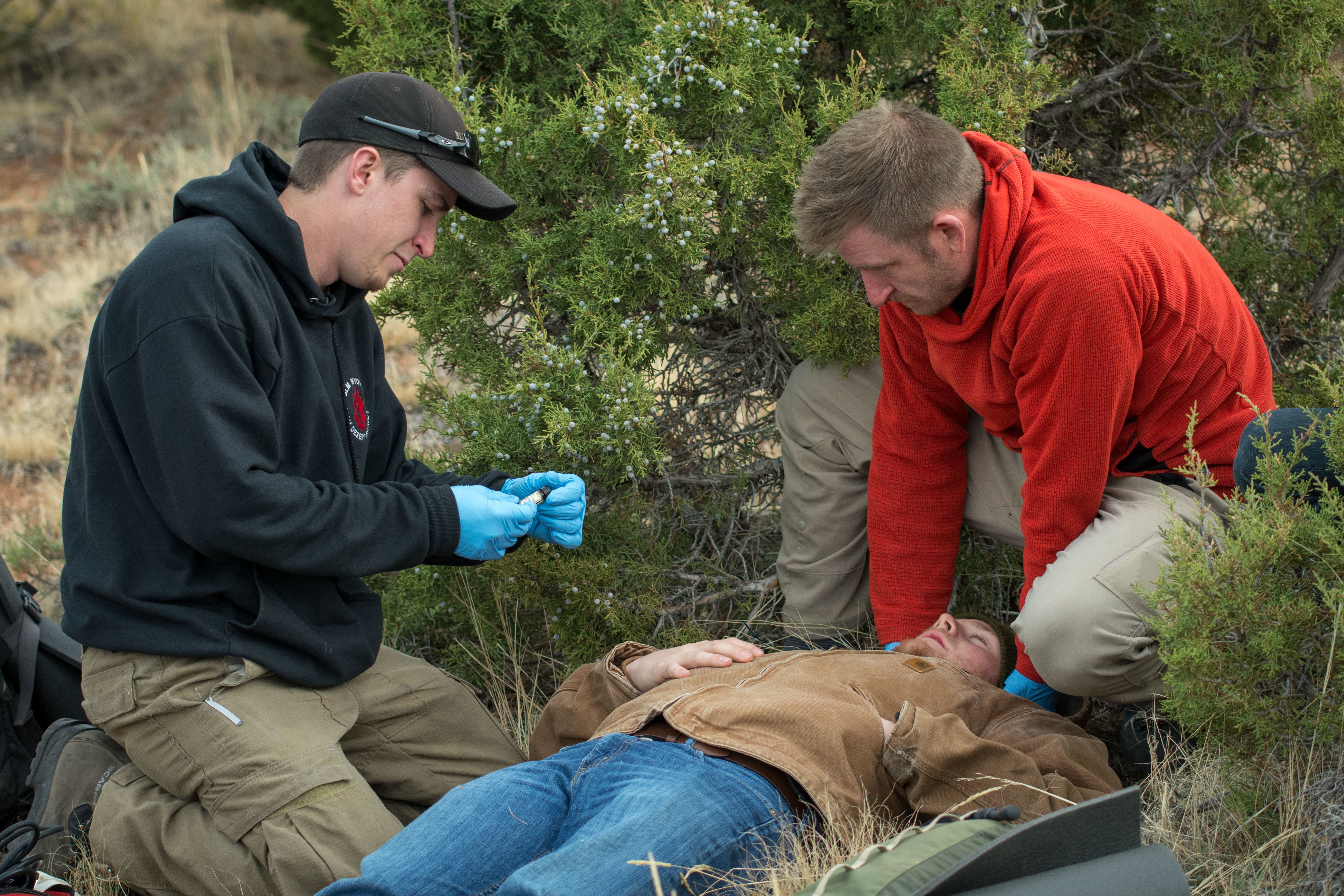 You Won't be Fooled by Common Myths and Misconceptions
No, it isn't correct (or safe) to suck the poison out of a snakebite. You shouldn't be peeing on a jellyfish sting either. Where is the best place to be in a lightning storm? What should you do with a knocked-out tooth or an accidentally amputated finger?
The first aid treatments you learn on your course are constantly updated based on the latest medical research, which is a great alternative to doing something you saw on TV or just "figuring it out."
Earn a Certification
You'll earn a Wilderness First Aid certification that is great for taking a leadership role with your group or club, getting a job in the outdoors, or simply sharing your experience with your family and friends. It's never too late to learn something new and further develop yourself as an outdoor enthusiast and as an individual.
Being able to say you're certified in Wilderness First Aid is pretty cool too!
Course Approval
This course meets the American Camp Association 2012 Standards and the Boy Scouts of America Wilderness First Aid training requirements. Additionally, the Wilderness First Aid course (WILDMI-554), and when included the CPR/AED course (WILDMI-134), are approved by the United States Coast Guard to meet the first aid and CPR training requirements of 46 CFR 11.201(i)(1)(ii) and 46 CFR 11.201(i)(2)(iiI) for a merchant mariner credential.
There Is a Course Near You
We offer courses each year all over Florida. And it means no matter where you live, there's likely a course coming up in your area.
Take charge of your adventures, your preparation, and your safety with a Wilderness First Aid course.
It may be one of the most important things you ever do.
To make the first step towards becoming Wilderness First Aid trained check our calendar to find details of Emergency First Response programs in your local area.
Becoming Wilderness First Aid-certified delivers long-lasting value, and Hike It Florida offers a broad range of award-winning classes for Wilderness First Aid certification in Florida. To learn more about our Wilderness First Aid certification course, to set up a training at your location, or to become a Wilderness First Aid Instructor, please contact Hike It Florida at (813) 308-5030 or visit our email us today.